Villa Catola News (76)
Saturday, 07 April 2012 11:43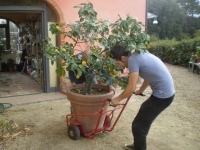 La primavera è arrivata i  limoni tornano in giardino ... !!
Spring in arrived , lemon trees came back in the garden.. !!
Thursday, 05 April 2012 22:21
Wednesday, 04 April 2012 16:26
FESTIVAL DELLE REGIONI 2012  
FESTA GRANDE a Bucine il 27,28,29 Aprile  per l'ormai tradizionale appuntamento con Bucine in Fiore.
Durante il fine settimana manifestazioni folcloristiche, fiere e mercati . Potrete degustare tanti  prodotti tipici delle Regioni  Italiane .
2012 FESTIVAL OF THE REGIONS
BIG DAY Bucine the April 27,28,29 the traditional appointment with Bucine in Fiore.
During the weekend folkloric events, fairs and markets. You can sample many typical products of the Italian Regions.
Tuesday, 27 March 2012 07:41