News (3)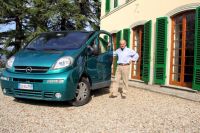 Villa Catola, situated on the edge of Bucine village, is a place of "well being", where you feel at home and can truly relax and unwind. The Villa is located on the spectacular hills of the Arezzo countryside. The central location allows you to quickly reach the main art cities of Tuscany like Arezzo, Siena, Florence, San Gimignano, Lucca, Pisa, the Chianti Classico area as well as the beaches of the Etruscan Coast. It is particularly easy to reach Bucine by train and the villa is located near the railway station (Florence-Rome routes).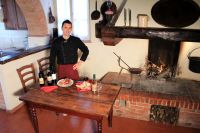 The Catola family that lives in the part of the building that used to be the stables and storage rooms. The family is happy to give you any assistance you may need. The warm, helpful and knowledgeable family will add value to your stay. Fabio will meet you at arrival and helps with any arrangements you may need. Stefano is the chef who is happy to cook you meals on request. You should not forget Andrea, the photographer of the family, and you might get a chance to meet also the youngest member of the family, Gian Marco and lovely Lorella, on your stay. Tullio and Riva are also worth mentioning especially when it comes to authentic Tuscan food. If you come to visit Villa Catola in the harvest time you might get a chance to participate in the harvesting and all the traditions around it.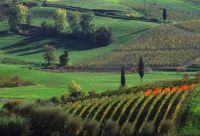 The original core of the building was originally an oil mill, dating back to the 17th century. The building "LA COLOMBAIA" was expanded, and became a large country house with a dozen farms. The name comes from the topographic maps of the time. At the end of 1800 it was bought by Stefano Chimenti, Mayor of Bucine who was married to Gemma Bambi, a Florentine noblewoman. The building has been fully restored and descendents of the Chimenti family have lived there ever sense. Nowadays the great-nephew of Margerita Chimenti. The name of the house was changed to Catola by the current owner.